Available in 7 Colors plus a primer!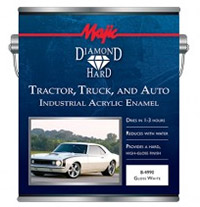 Acrylic Diamondhard Industrial Enamel
Dries in 1-3 Hours.
A water based Acrylic, High-Gloss Enamel.
For use on metal, properly prepared steel, previously coated and primed substrates.
Ideal for use on equipment, machinery, and any project where a fast dry time is required.
Great gloss retention, durability, and a fast dry time are achieved without adding a catalyst.
8-4957; New JD Yellow – Qts, Gals
8-4962; Equipment Yellow – Qts, Gals
8-4966; JD Green – Qts, Gals
8-4972; IH Red – Qts, Gals
8-4979; New Ford/New Holland Blue – Qts, Gals
8-4990; Gloss White – Qts, Gals
8-4994; Gloss Black – Qts, Gals
8-4986; Gray Primer – Qts, Gals