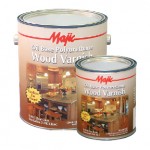 Oil Base Polyurethane Wood Varnish
A hard, protective, clear varnish that offers exceptionally long lasting beauty of wood surfaces subject to wear and abuse. It enriches the natural beauty of wood while providing protection from abrasion, water, alcohol, cleaners, and stains.
Majic Oil Base Polyurethane Wood Varnish is available in a high gloss or natural satin for a rich hand-rubbed appearance.
VOC compliant for all states except Southern California.
8-0310; Clear Gloss – Qt, Gal
8-0312; Clear Satin – Qt, Gal//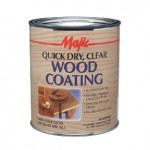 Quick Dry, Clear Wood Coating
A hard drying crystal-clear finish for interior wood surfaces that dries dust free in 30 minutes and can be handled in one hour.
This product is easily applied by brush or spray. It is resistant to tough wear and is not harmed by alcohol, water or detergents.
It is available in a full gloss finish or a satin finish for a rich, hand-rubbed appearance.
8-0362; Clear Gloss – Qt
8-0363; Clear Satin – Qt//